RadioTrain Ep2: A Reflective Account
RadioTrain Ep2 was released on Friday 1st September. Below is a reflective account on the themes, production, and presentation of the show. Advisory: explicit content.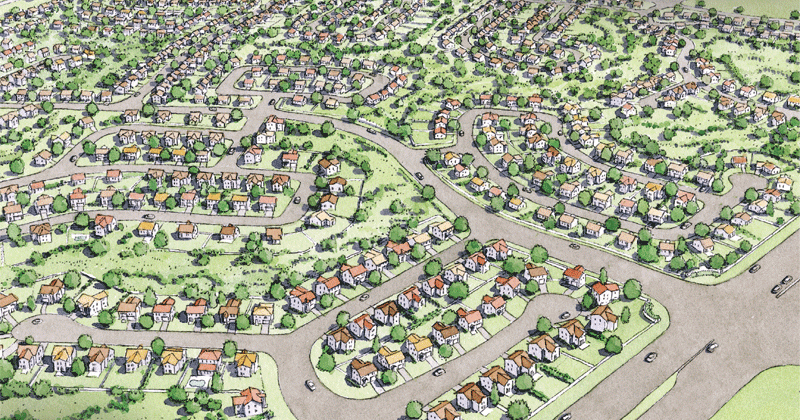 "Wagwan!"
Henry asks while the first few keys of Lil Uzi Vert's 'XO Tour Lif3' pluck at the air. The simplistic production (by TM88) displays twinkling melodies that are contrasted by a humming bass that would energetically rattle the trunk of any automotive. But before analysing the song let's not skip over this week's introduction, which features Henry brashly claiming to be called a type of domestic terrorist known as a "suburban disturbist". The assonance of the nickname gives it a nice ring which could draw attention to putting the 'herb' into suburban disturbist. This could also be a name for someone taking part in the renaissance of a supposed 'millennial revolution'. Such a term may be applied to a youthful individual who is living among a community of fully grown adults, naturally feeling the need to disrupt the environment by rebelling against the established captivity of oldness. This may take the form of coming up with innovative ideas, acting on a creative mindset and giving sharp edges of attitude at every opportunity. This attitude can be embodied by Henry reminding us not to "let anyone tell you anything". Although you may be seen as terrible by others this may not be the truth due to a difference in perspective. This theme was approached at the end of RadioTrain Ep1 by the song 'Curry Chicken' that has an extract of Joey Bada$$'s mother explaining that "it's all a story. It's a perception that people make for you, […] So it's not really what it necessarily is". So in correlation with this, should anyone try to tell you that the way your living is wrong simply because it's different to the way they do things, remember that they are a product of a different environment and now it's up to you to create your own path in life. However, this does not give you the green light to act like an ass. If you want to have a positive impact on your surroundings then focus on your breathing, live in the moment and be kind. Let's get it.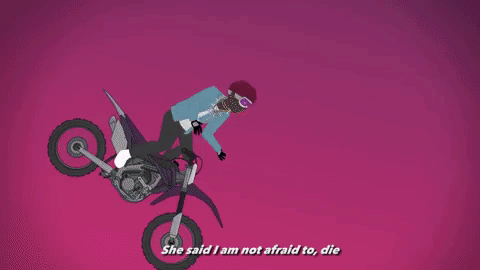 Lil Uzi motorbike jumping through 'dead presidents' into a stadium full of fans. What a spectacle.
Lil Uzi Vert's XO Tour Llife3 portrays a coldhearted account of a depressing breakup and also serves as a flash-forward in the timeline of this weeks show. A lack of pity is shown by the speaker unsympathetically addressing their love interest by remarking "I don't really care if you cry / On the real, you shoulda never lied", which shows distinct relationship issues. Furthermore, as a result of subsequent emotional trauma, the song also focuses on drug use as a means of coping with pain: "Please, Xanny, make it go away / I'm committed, not addicted, but it keep control of me." A lack of free will with regard to drug taking? Sounds like you're an addict, mate, but I'm not one to judge. The song seems to demonstrate a key moment; not only in Lil Uzi's relationship with Brittany Byrd but also in his song writing career. According to an interview with Zane Lowe on Beats 1 Radio (see here), the concordance of a stylistic narrative follows 'pre relationship' (Luv is Rage), 'present relationship' (Lil Uzi Vert vs. the World) and 'post relationship' (Luv is Rage 2). A similar kind of narrative takes place by the collection of songs in the show, which Henry later alludes to by challenging the listener to "figure out what it is". First, however, the pulsating synths of 'Who Dat Boy' accompanied by strained violins and tension-building squeals combine to make a creepy intro to a villainous-sounding song. A$AP Rocky provides an egotistic presence to add to the track's dismissive message towards those who are "Mad 'cause a nigga neck chill like that". The track also adds to the running theme of car ownership in the album 'Flower Boy' by the closing lyric "Get out of my way, way, boy that's McLaren / That's 0 to 60 in 2 point nueve, I'm gone". Upon giving the album a holistic listen we may find that it is riddled with references to driving and the resulting hollowness of attempting to comfort oneself by owning a nice car. This theme may be examined in more detail in future reviews but for now Tyler continues to creatively flex on those who doubt.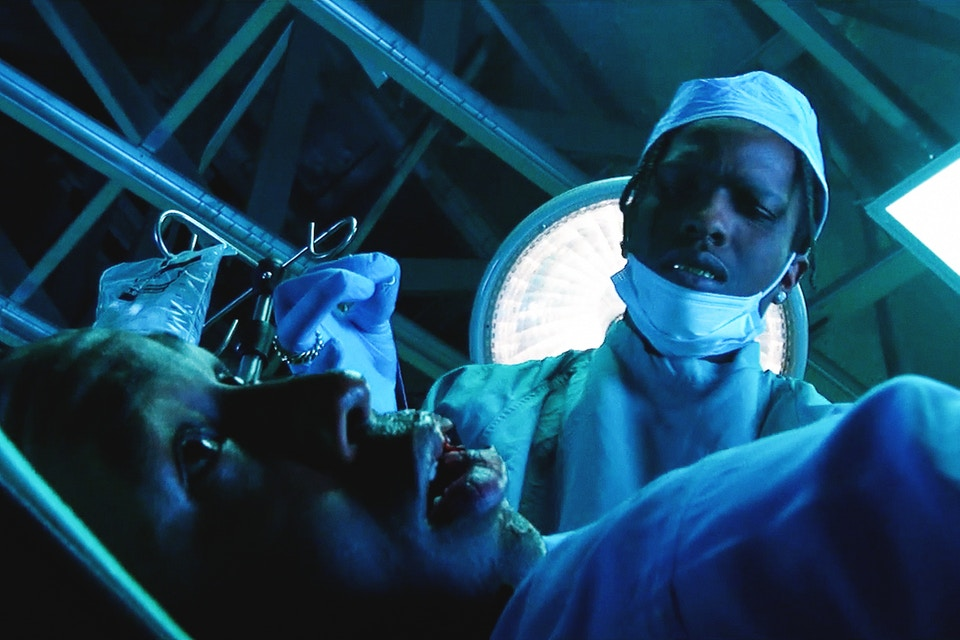 "One nigga jiggy and the other awesome / With his fuckin' face blown off, that's how they found him / It's Young T." - Tyler, The Creator (Who Dat Boy).
Up next, during the intro to Travis Scott's '90210', Henry claims to be "running into many brick walls" which may be a reference to the potential legal issues of participating in online radio (which are not a problem due to the correct licensing procedures being fulfilled). The statement may also be a reference to the stage of the journey that this week's show is exhibiting in relation to the pursuit of self gratification. We like to encourage perseverance as well as keeping things open to interpretation here at Cold Compress Radio. 90210 (the zip code for Beverly Hills) features sweet, harmonising bridges by female vocalist Kacy Hill who delivers an artistic counterpart to Travis Scott's gruff, auto-tuned take on drugs and prostitution. The second part of the song parades a fantastic verse by Travis that details his success in the music industry and the positive impact that this has had on his family. The speaker is 'flying high' on this one and the interview that Henry mentions can be seen here (skip to 17:34). Then the heartbeat-like rhythm of Kendrick Lamar's 'LOVE.' beats through the ether as the initially female-sounding vocals by Zacari reach quivering peaks. It's another solid song from Kendrick's most recent album 'DAMN.' that presents unforgiving flows and a rhyme scheme in couplets, which may reflect the attention on the chronicle shared between two people. At this point the song offers a pretty obvious clue to the theme for this week's show but the true journey is yet to be foretold.
Kung Fu Kenny. The contemporary generation of Kendrick Lamar's artistic development.
Henry welcomes the listener to hip-hop as Childish Gambino's '3005' chirps up, delivering a cartoony and alarm-sounding hit for the shows progress. The song portrays a promise by the speaker stating "I'll be right by your side till 3005" which could not only be indicating the staying power of the artist's critically acclaimed discography but also the emulating a form of proposal. However, this confidence in the consummation of a relationship immediately seems to be reversed by the next song 'Ms. Jackson' by OutKast. Imagine some turmoil occurring between the start and end of a relationship, owing reason for a sincere apology to the female-figure's mother as wrongdoing seems to be more frequent. Now we're getting a dose of catastrophe and at this point the playlists nonlinear journey is catching up to Lil Uzi Vert's state of mind at the beginning. In other words this part of the adventure is shedding light on the problems at the root of a breakup; as is shown by 'ROS' by Mac Miller. This love song quickly turns sour by the disruptive note played by a woodwind instrument as the speaker remarks "Your pussy is a palace and your head is crazy", which may be positive advancement (by the multiple double entendre's of 'head' and 'crazy') if it weren't for the depleting tone of the song. The speaker resolutely reminds us that "Nothing lasts forever" as we proceed from happiness to sadness; personified by the pathetic fallacy of the songs title 'Rain or Shine'. This stage of the story is steadily backed up by Earl Sweatshirt's 'Sunday', which also features Frank Ocean firing shots at Chris Brown over a dispute about a car parking space: "I mean he called me a faggot / I was just calling his bluff / I mean how anal am I gon' be when I'm aiming my gun". This deviation from the main focal point of the journey's arc is concurred by Wiki's '3 Stories' which shows us that a relationship may just be one third of a city boy's lifestyle and there is more to life than 'bumping and grinding'.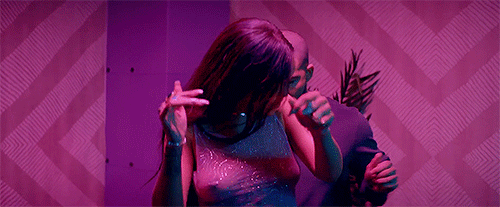 Drake & Rihanna dancing to the island-style slammer 'Work'.
'Too Good' by Drake (featuring Rihanna) offers an insight towards a stage of clarity wherein either side of the liaison may feel underappreciated by their partner. This is sang simply as "I'm too good to you / I'm way too good to you / You take my love for granted / I just don't understand it". The playlist deliberately makes the turn ambiguious by not pinning a breakup down to a particular point; perhaps attributing to how it is sometimes something that isn't over quickly. Emotions tend to linger. This is emulated by 'Thought About You' by Vince Staples & Larry Fisherman, which has the forlorn retrospection: "You probably should have stayed / It just wasn't your place". Although love between partners may be the main focal point of this week's show we also make way to a wider variety of relationships with friends and family in 'Answer' by Tyler, The Creator. The emotional melodies continue to resound in Yung Lean's ballad 'Eye Contact', which draws a parallel between the remembrance of a past relationship being similar to the mourning of a deceased loved one. Henry reminds us that this feeling of sadness will subside as "now is not forever" (introducing the motif of time passing) and this recognition of the balance between emotional extremes is quintessential to Cold Compress Radio's entertainment. As the song ends we see a turning point in the playlist as the opening song to Travis Scott's 'Rodeo' launches us into the pornographic aftermath of a long term relationship ending. While Lil Uzi Vert may use prescription drugs to cope with emotional pain others may turn to another form of drug from this current age: 'pornography'. Here we see a similarity between the use of substances (drugs, technology and music) as a means of self medicating. This functions in sequence to Henry's earlier statement "all things in moderation, including moderation". So in the event of becoming single may your cup runneth over but also check yourself before you wreck yourself, I suppose.
Vibrant rendition of ScHoolboy Q's character. Note: as Q used to be a 'Hoover Crip' the bandannas ought to be blue to indicate previous gang affiliation. Perhaps he's' attributing homage to the 'Bounty Hunter Bloods' in this one.
'THere He Go' by ScHoolboy Q (who dominates this part of the show) exemplifies the parting of ways between partners and follows the story of a young man winning at life: "Look up in the sky, it's a bird, it's a plane / No, it be this nigga here just looking at you lames". I'm sure the young lady is doing fine too as the next segment of the playlist attempts to evoke the upbeat partying atmosphere that comes with the liberation of being newly single. This is momentarily contrasted by the aggressiveness of Earl Sweatshirt's dark 'Mantra' that keeps the vibrations tingling with excitement through the short interlude before A$AP Rocky smashes your eardrums with bravado. The next aspect of partying takes the form of the strip club by 'Electric Body' that performs with heavy arrogance over nocturnal production, featuring a gritty breakdown by ScHoolboy Q to form a 'magnetic shape' of a song. The outro by Joe Foxx echoes into the bumping rhythm of ScHoolboy Q's puncher 'Druggies Wit Hoes Again', which may emulate the fast-paced nightlife ambience as summarised by Ab-Soul's feature: "Still got the baddest hoes, still burn the finest weed / Everywhere we go, they still know who we be." The next song is by Clams Casino and introduces distant and "spacious" production, which may mirror the position of a previous lover being a distant memory or "a ghost in a kiss".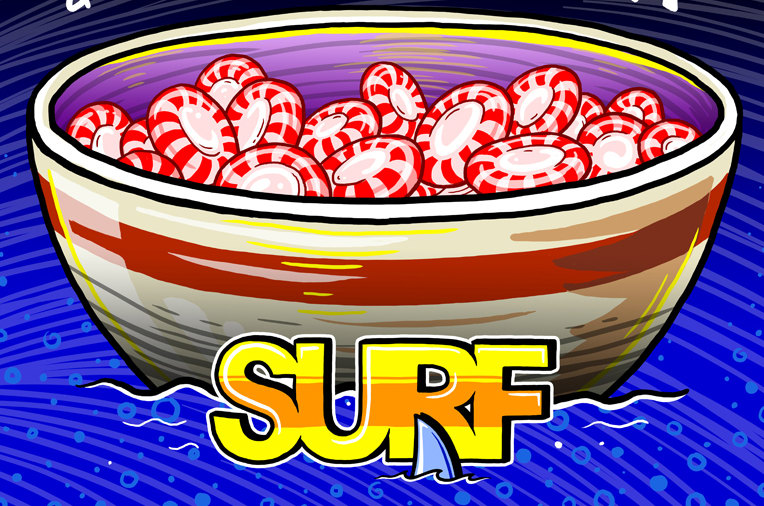 "I come to church for the candy, your peppermints is the truth / I'm pessimistic on Monday if I had tweaked and missed you" - Chance The Rapper (Sunday Candy).
At this point the narrative seems to suggest that your love interest is just a thing of the past and the posse cut 'Sleep' seems to evoke the gregariousness of having a good time with your friends. The production is loud (featuring lengthy organ chords and shrill background howling) which can interpreted to elicit the perfect environment for keeping it real with 'the homies'. The closing lyrics "this right here's the end" indicates that the playlist is coming to a finish and the penultimate 'Blessed' by ScHoolboy Q encourages us to think positively and count our blessings. The hook "Stay blessed my nigga, blessed my nigga / Really think about it, could be worse my nigga" advises us to keep our head high and reminds us that love and relationships are wonderful aspects of this dynamic life of ours. This transitions nicely into the religious themes of the final song by Donnie Trumpet & The Social Experiment with 'Sunday Candy'; a more positive angle on the day of the week in contrast to the previous 'Sunday' by Earl Sweatshirt. The song rounds off the playlist by drawing a link between some of the themes addressed on RadioTrain Ep2: romantic love, family love and Christian love. This is shown by Jamila Woods' bridge: "You gotta move it slowly / Take and eat my body like it's holy", which may refer to both holy communion and cunnilingus. Let's get it!
Henry Garlick

---