Vevo Halloween 2017: A Live Show Review [Reupload]
Fancy dress, hot air and perplexed security guards. 'Vevo Halloween 2017' occurred on Saturday 28th October, featuring performances from Rag'n'Bone Man, JP Cooper, Jonas Blue, Yungen and more. Below is a qualitative review of the event as well as a first person account of some of the nights transpiring moments.


---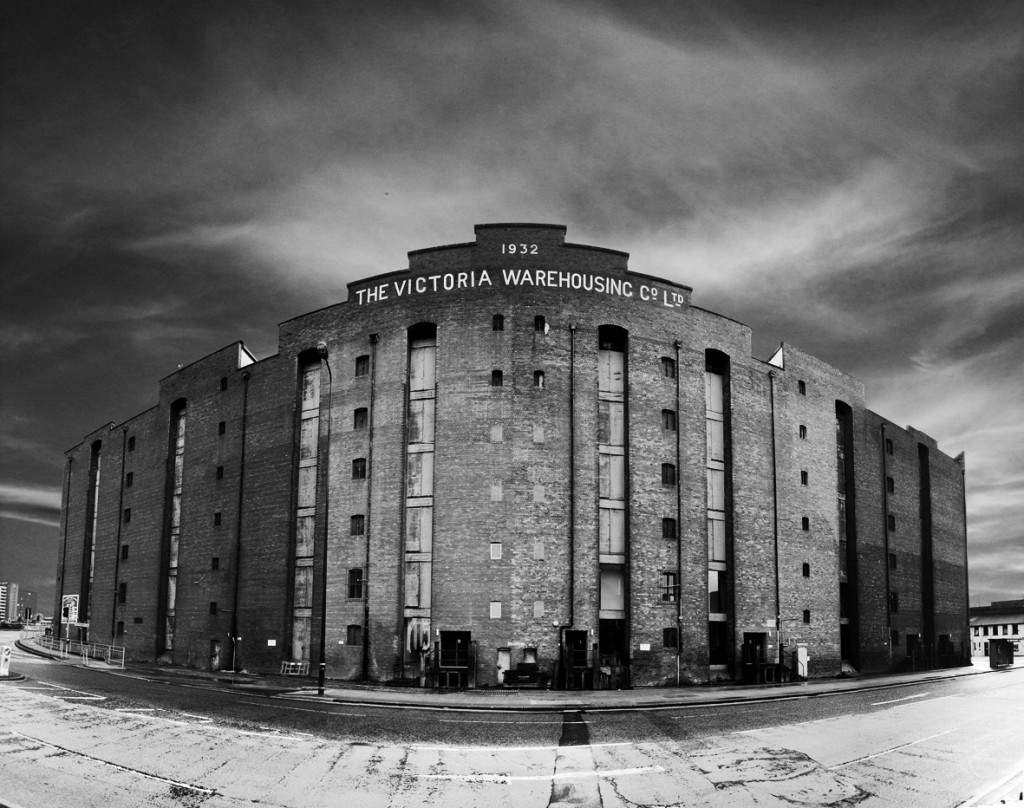 Students are a weird bunch, man, nobody looks alike and yet we're all recognisable as students. However, at Vevo Halloween there was no telling who's who, student or other, and I find drunken beasts just as scary without the face-paint. Demonic imagery, white contact lenses and ghoulish make-up did little to hide the fact that this was a standard night out with loud music, alcohol and bright lights. As I arrived at the gates of the Victoria Warehouse, I was greeted by heavy security, no queues, brisk pat-downs and a loud smoking area with shrill voices echoing off of the high corrugated-iron ceiling. It was very humid inside. The thick air lingered over the bar which was teeming with excitable monsters and it took twenty minutes and five pounds to be served a single Jack Daniels with flat Coke. There was plenty of bar staff but many seemed distracted and inexperienced so it's a shame the fridges were stocked so bountifully. However, they still kept everyone's cups full and the merry vibes swayed into the expansive hub of the main room.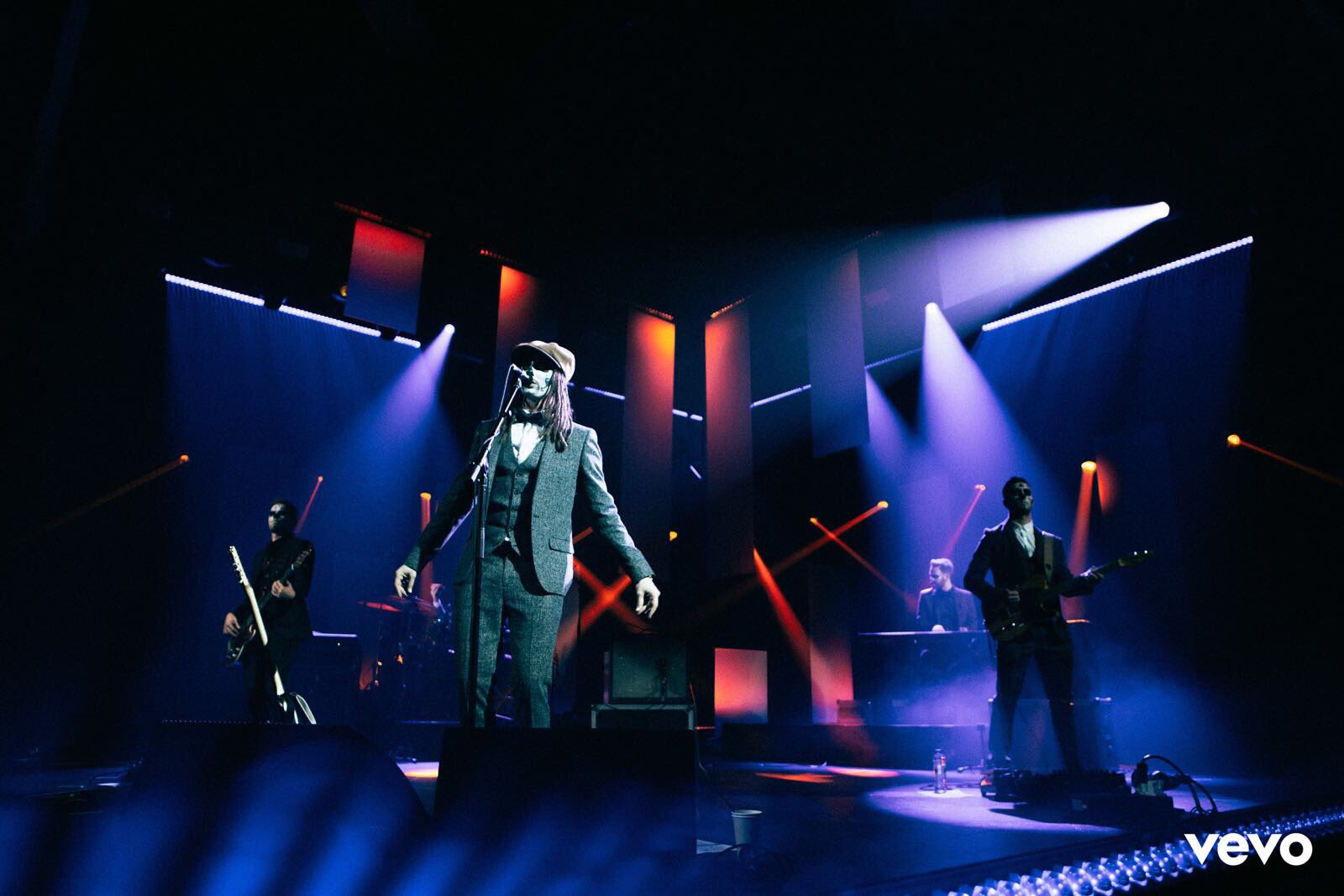 I arrived at twenty-past-nine and caught the end of JP Cooper's set, which (from the bar) sounded passionate and appeared to be crowd pleasing. Hannah, later in the evening, would say that her favourite performance of the night was actually by JP Cooper (pictured above). This was apparently due to "an incredible stage presence" but Hannah gleefully admitted to "love all of his songs anyway". As Cooper's set ended, the stage was cloaked in blue light and the final song seemed to have a sorrowful tone which the crowd then contrasted with huge applause. There were long intermissions between each set so I took to the smoking area to get some fresh air. I looked around at everyone's Halloween costumes and felt glad that I had incidentally wore a red tee with a black jacket, appearing sort of Dracula-esque. Getting over the heat of the main room, I decided that the venue was decent; presenting a basic style of brick walls and bare light-bulbs. Cool, I headed inside. The gents toilets were big, offering room to put down a cup safely, but it was not without its own grimness. On one occasion I was leaving the toilets and I saw two security guards stood in the corner shoulder-to-shoulder with their backs to the room. A third member of security joined them, looked at the floor and said "oh". "Yeah. Oh.", another one said in response. I dismissed this and walked into the main room, wherein Rag'n'Bone man was due to be onstage at 10pm. Laying on the ground between their feet was a hypodermic needle.
After a tense ten second countdown, spurring a jubilated crowd into cheer, the screen went up. 'Bone Man' and each member of his band appeared onstage dressed up in black cloaks and ghostly face paint. After laughing at himself he began a somewhat heartfelt set, fulfilling expectations by playing 'Human', 'Grace' and 'Skin' among a few other tunes. Although, there was no exclusive music played, the crowd seemed satisfied with the performance - some of whom even exited the show after it had ended. Bone Man left the stage after saying "don't do anything I wouldn't do", wishing us a positive evening. While enjoying the show, I saw some creative costumes that were set apart from the usual theme of promiscuity and the supernatural. Among a group of discombobulated trick-or-treaters was a dude with a wooden cross stuck to the top of his head and a piece of string at each end attached to a limb; he was a puppet. There was another dude wearing the skeleton of an angler fish over his head and the lantern really lit up. The girls were mostly dressed provocatively – killing it in a different fashion. Still killing it, though. I also saw a girl humorously dressed in pigtails and a black blouse with a white collar, instantly recognisable as 'Wednesday Addams' from 'The Addams Family'. I saw another girl wearing the same costume later on in the evening but not pulling it off to such a degree of likeness. A solid choice of costume, nevertheless.
Feeling relaxed, I headed back to the smoking area where I met a girl whose name began with an 'E'. She had dark hair, Mexican-skull 'calavera' face paint and dilated pupils. She said that her favourite performance of the evening was by Rag'n'Bone Man. A graduated history student working a job she hates: 'E' liked the soulfulness of the song 'Human' but feels as if the artist lacks a degree of genuineness. She elaborated by stating that the artist seems to be selling out shows just for the money and as a result his music seems to lack an aspect of the soul. Much like how E feels at her role in 'category management', there seems to be a reduction of satisfaction in correlation with a pursuit of more money. I left that space by the brick wall to catch Yungen onstage, rapping over trap beats and dressed as the Joker. "When I say 'why so', you say 'serious'", he shouted, "Why so!". "Serious!" the crowd returned with immense energy. Yungen exceeded expectations far beyond that set by his biggest club tunes - the set was kind of banging. Yxng Bane turned up as well and it was quite 'turnt' at that; the crowd singing along to the catchy hooks as the lengthy bass lines reverberated off of the walls. One of the lyrics stuck out to me: "everything I do, I do it right", Yungen rapped. At the time I thought that to do such is impossible or at least Yungen must be doing very easy things to make such a statement. But I now see that the phrase may be an attempt to establish adeptness, feigning confidence with brashness. This may be an aspiring take on the well-established aspect of rap music that attempts to exhibit capable masculinity by acting effectively. Nobody who is taking significant action is doing so without failing most of the time. However, Yungen is not the first to voice such a cliche and this display didn't seem to deter the overall feeling of elation among the ghoulish party-goers.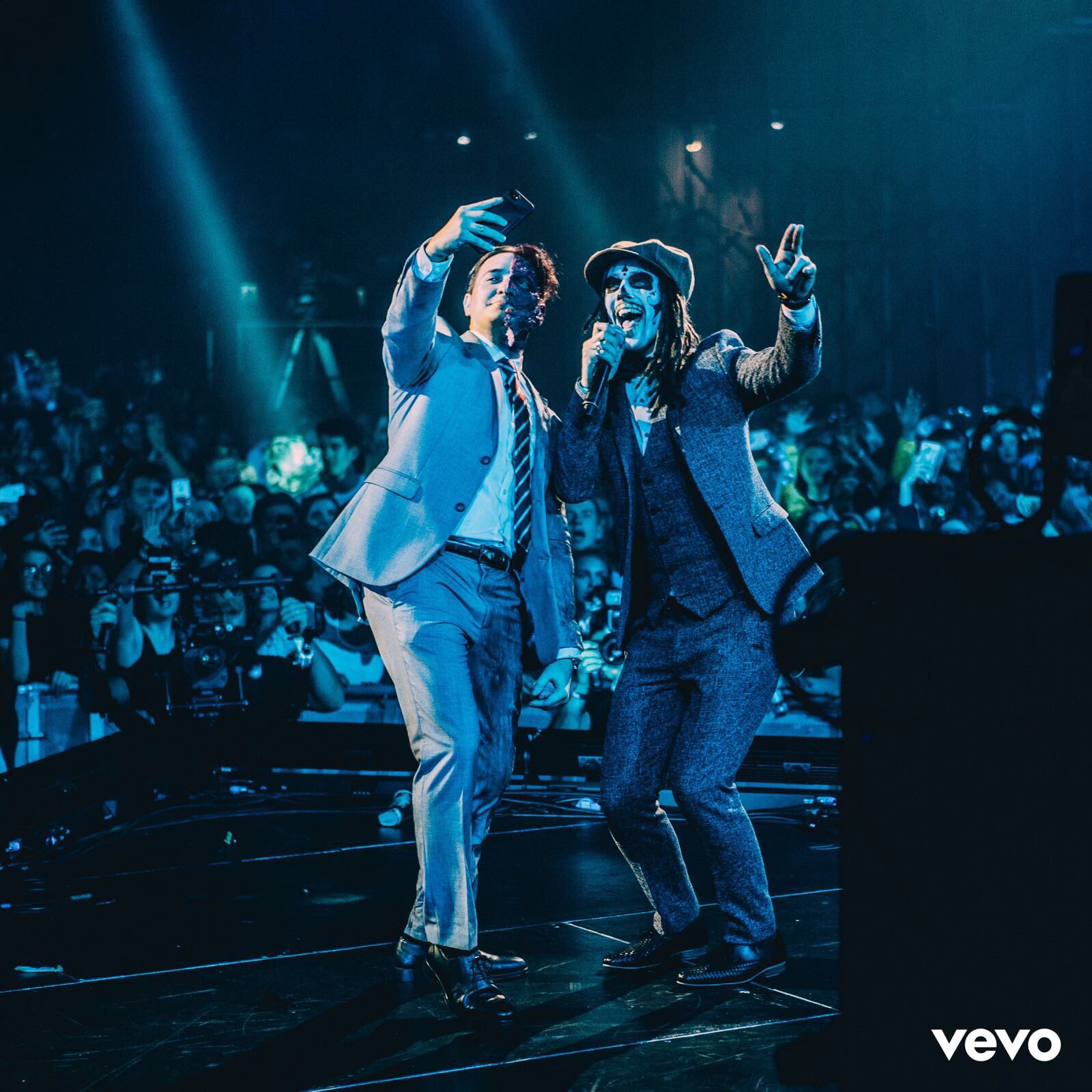 The last set was at midnight and Michael Jackson's 'Thriller' was playing as a twitter feed for #VevoHalloween flashed on the screen that separated the audience form the stage. Earlier in the evening, one of the tweets read something like "Did you hear about the female MC who rapped about her menstrual cycle? They say she has a mean flow". Ironically, Cardi B's 'Bodak Yellow' was playing in full swing at the time. I ended up near the front for the last show, thinking that Rat Boy (pictured below) was soon to be on. However, as the final countdown began, images of Jonas Blue appeared on the screen. I f*cking missed Rat Boy? Shit. I was disappointed not to have the opportunity to see him use an iPhone 6 as a guitar slider, or see him skateboard onstage or do some generally wild shit. Nevertheless, Jonas Blue (pictured above with JP Cooper) span some dynamic dance tunes and the female singer's energetic performance was on point as well. "Who is he?" I heard a girl behind me ask during the set. "I don't know", her friend said "but I recognise him". Once more, the name 'Jonas Blue' flashed past the stage. Time to leave, I thought. As Blue's debut single (a remix of 'Fast Car') played behind me, I glided effortlessly through the crowd, following my centre into the backseat of an overpriced Uber.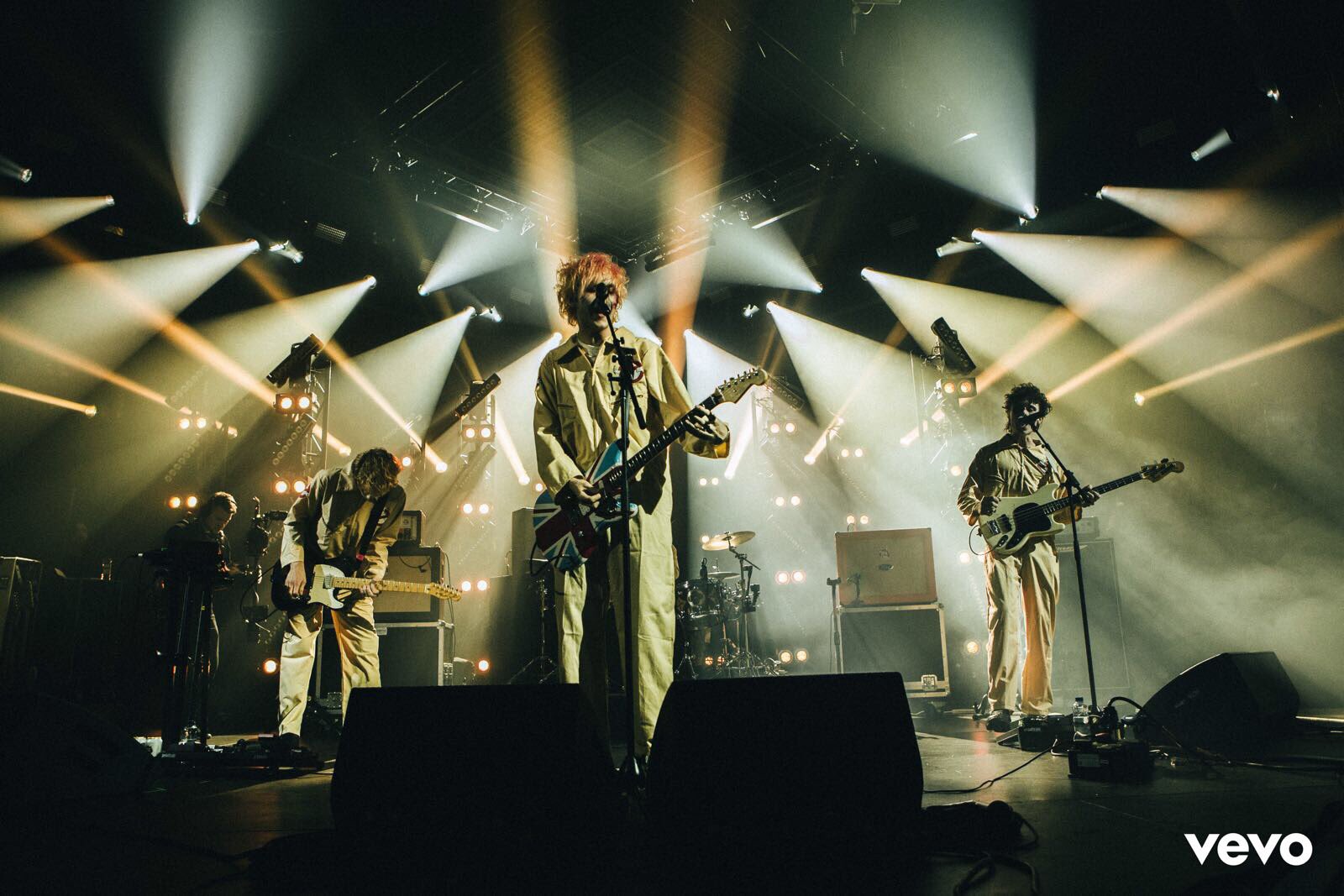 In conclusion, it was a good night with pros and cons that balanced out to no regrets. I'm pleased to have reviewed the event through the liaison with Hive Radio and Vevo so my gratitude goes to those involved for that! As expected, the types of music were varied but mostly satisfactory and the vibes were ultimately fun. However, the greatest foul is that the audio at Victoria is of trash quality, making it too obscure to hear what the artists were saying to the crowd. Instead of having a holistic experience, the music seemed to meld into one and it was difficult to separate the live instruments from one another, resulting in a disconnect between the performance and the listener. This, as well as inattentive bar staff, is a major let down to an otherwise sound venue. Juxtaposing this technical difficulty is the fact that there were many engineers working backstage so something doesn't quite add up there. Apart from this detail, however, it was fun and I look forward to my next opportunity to review more live music and other venues. Bless up.
-Henry Garlick